Reviews
This is my review page where I will feature the works of indie and traditionally published authors that I'm currently reading and recommend.
4/4/18
Djinni Hunter by T. Kozumplik
I didn't know poets like this still existed. This is the type of verse I wish I could write.
To describe why Kozumplik's poetry is great is like trying to describe why a Monet, Rodin, or a Seurat is great. It's simply masterful.
One of my favorite novelists says of her character-poet that she painstakingly obsessed over each word until the poem was perfect, and that's what I imagine this author has done (and if not than he's a freaking genius and one of those people whose raw talent disgusts you.)
How to describe this poetry: you want to read it beside the water in a beautiful city. Paris, Venice, Vienna. You want someone like Jim Morrison reading it to you in that dark, molasses voice of his. In fact, if Morrison had been sober long enough, he could have written poetry like this.
On a purely technical level, this poetry juxtaposes nature with human experience, with heavy emphasis on the seasons, horses, water, an the specificity of moments.
But forget all that. Read it if you want to discover (or rediscover) a passion for the inherent beauty and alchemy of the written word.
2/7/18
So, a year has gone by and I have NOT done a good job of keeping up on my Review page :/
Without further ado, here are the top books I read in 2017-early 18 that deserve your attention:
2/20/17
This collection of poetry is so powerful, I'm reading through it a second time. I discovered Alysia Harris through the Brave New Voices poetry slam, was so excited to see a volume of her work finally published (no more slogging through Youtube–yay!), and could not be more pleased.
This poetry is nourishment with words. In fact, I find her ability to paint masterpieces with syllables (literally) breathtaking. There were so many moments when reading that I had to take a moment and really inhale the artistry.
Harris' poems touch on subjects as vast ranging as lost lovers and aging. Some of my favorite poems include "Votive", "The Storm has a Womb from Where the Birds Leapt", "Ishmael", "Fear of Aging", "Crow's Sugar", and "Spigot".
Here are some of her masterful lines to leave you with:
–Every day I don't swim in myself is a day where I keep your name on high ground–
–Solitude is the only salvation I've ever heard of
where the Savior & the saved are the same–
–it is easy to raise the son, from a throne. But who
without full belly can stomach their own eclipse?–
–we sang like was had azaleas bottlenecked in our throats–
Please read this. It is a delicate, tender, enlightening venture into the artistry of poetry.
I love Slam Poetry–hearing/watching it and reading it. It's the best of all poetic worlds. It's confessional, political, rhythmic. It uses the most thought-provoking metaphors and imagery. It's the kind of poetry that stays with you, that you can keep deconstructing and uncover something new each time.
Sierra DeMulder's poetry is amazing. It's all aforementioned things. There are so many beautiful, heartbreaking, enlightening moments in Today Means Amen. I felt especially drawn to her ties with family, her way of comparing humanity to the natural world, and her analysis of relationships. I love poems like "For my Niece Livia Age 8" in which she illustrates the unique loveliness of the individual, and "Facts Written from an Airplane", which gives poignant insights on life.
If persnickety poetry is lost on you but you still want to be "nourished" by the literature you read, give Today Means Amen a try. It's straight soul food and you won't be disappointed.
1/12/17
I've found a kindred spirit in this poetry <3
This collection is so many things wrapped into one: it's a chronicle of the journey towards finding oneself, it's a love letter to lost souls and hurting hearts, it's a pep talk for bad days. It's a best friend in a book!
I was immediately drawn to the poet's honesty and also the empathy exuded throughout. I believe earlier reader(s) have said this but I identified with some poems to the point that they brought me to tears; it felt as though the poet were telling my story, understood my heartbreak. This is a writer who wants the readers to feel intimately connected and transported through her writing.
Some poems are more "poetic" than others in form. Some read more like journal entries or flash fiction. Regardless, this is a book that I'm sure I will read again.
Favorite poems include: Yesterday, I Go to the Ocean to say Goodbye, You Are Not Alone, Journal II, On Loneliness, The Boy, If I Stay (crieeedddd!), Contradictions, The Youth or the Truth, Addictions.
Please pick up a copy, support this poet, be transported. A hug in a book!! <3
1/6/17
Amazing Start to the New Year!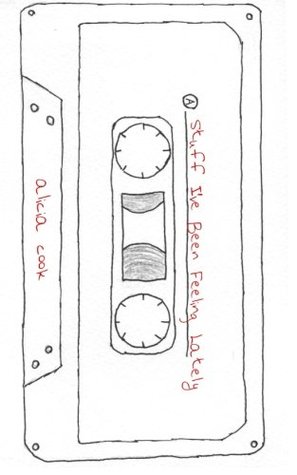 I picked up this collection after discovering it as a Goodreads finalist.
I would describe my experience with this collection of poems as satisfying. The concept was great; I really liked having the poems attached to songs and representing that moment in the poet's life. I especially enjoyed the poems that gave these "flash non-fiction" moments of the poet's life.
Although many readers seemed to dislike the Remixes, I thought they were quite profound. They actually bumped my rating UP from 3 to 4 stars. I loved reading those little ah-ha moments that were embedded in the poems.
On the flip side (pun intended, lol), I enjoy a bit more complexity and form to poetry. The poems fell a bit flat for me at times. However, I still think it's worth readers' time and is a great read for poets and non-poets alike.
I picked up this poetry collection after browsing the Goodreads finalists for poetry. I read the first poem on Amazon and thought yes! This is going to be a great collection!!
Like other readers, I fear my expectations were too high. There are a few poems that resonated with me; poems that moved beyond cliche and showed vulnerability and honesty. I also appreciated the poet's writing style. I like the alliteration and the ebb and flow of the poems.
The repetitiveness of many of the poems got to me. I got that the poet was left, that the parting was painful, and that the lover was missed. Too many poems ( in my opinion) echoed this sentiment without saying anything new or original about it.
La Douleur Exquise was a quick, entertaining read. I think it's a very accessible collection for readers who do not want complex poetry.
What a tremendous way to start the new year! Strickland presents this unique, spiritual, motivational approach to not only dealing with "chaos" in one's life, but expecting and welcoming it as it brings about positive change, creation, and beauty, all of which only happens through a chaotic beginning and eventual reshaping of the chaos.
This was exactly what I needed at this point in my life and I am so happy I gave A Beautiful Mess a chance to motivate me for the new year.
12/29/16
Playing Catch-Up!! Here are the best indie/small press books I read in the latter half of 2016:
For lovers of poetry, fairy tales, and feminism, Unexplained Fevers re-imagines heroines (an heroes) of fairy tales in fresh, poignant ways.
Some poems give a modern spin on the old classics. Some give a different perspective of those medieval worlds. All of them saturate the reader with meaning, mystery, and plenty to ponder.
Several of these poems spoke directly into my life. All created beautiful, lyrical visual images with words. Among the favorites are "Risking Our Lives", "I Like the Quiet: Rapunzel", In Which Jack and Jill…", "Retreat", "Seascape", and "The Trail Grows Cold" (my favorite!)
  I didn't love it as much as Unexplained Fevers but…there are some cool associations between comic book and fairy tale heroines that I found creatively inspiring and entertaining.  I'll re-read it, and that's the mark of a good book, right?
Each Vagabond by Name highlights the lives of Ramsey and Stella, two middle-aged inhabitants of the secluded, "unchanged by time" town of Shelk who are forced to face their demons when a band of transients ("gypsies") set up camp in the mountains above the town, and a string of robberies ignite slumbering ghosts and prejudices.
Where to even begin with what I loved about this novel! The haunting vignettes which give the reader a robber's-eye view of the homes which are invaded are poignant to say the least. The way in which Ramsey's and Stella's stories are unfolded in a quietly observant way, much as the characters deal with conflict. I loved that so much was expressed in what we not said, but in the gestures and actions of the characters. Or the look into the lives of these transients, shrouded in mystery, and I wanted to know more, and I wanted an entire novel to be written from their perspective, continuing their story.
This is a novel that stays with you in the best of ways! Favorite fictional read of 2016 by a longshot!
Witch Hunt is a collection of "here's where I'm at right now" poems that is raw, intimate, sometimes funny, sometimes sock you in the gut and "yeah, I've been there". It's sitting down with a good friend and drinking too much coffee while she unloads all that's going on in her life at the moment. And you're more than willing to listen because her life is this haunting juxtaposition between tragic and beautiful. And it's cathartic so…there's that, too. And you both thought Axl Rose was hot at one time so…there's THAT, too 😛

That's Witch Hunt in a nutshell. I feel as though Escoria is the second poet I've described this way. I have total respect though for her honesty and the transparency with which she writes. With the way in which she either trusts her reader tremendously or could give a f*** what the reader thinks. This is confessional poetry at its best.

  What an intense collection of poetry!

Reading Bridget Fonda felt a little like when you meet a stranger on a plane or in the grocery line or something and they proceed to tell you all the intimate details of their life, and you don't know how to react because you're so stunned that they're being so transparent and vulnerable and unabashedly honest with someone they barely know. Yeah…it was like that.

Some poems made me laugh out loud (Jim Carrey; oh my). Others hit me with that wild uncomfortable feeling; like, what do I do with that! And still with others I felt that connection with the poet of yeah…I've felt like that. I've totally felt like that!

Lovers of poetry and non-poetry alike: read it

Portraits of Girls I Never Met is a lovely, haunting collection. Lost somewhere between the worlds of prose and poetry, of fiction and nonfiction, one of the things I enjoy about this collection is its lack of definability.

I also enjoyed the way in which the poet brought out these deep, introspective, confessional moments within seemingly ordinary events and occurrences. It reminded me a little of post-modernism, and I love seeing those aha moments in literature because it reminds me to take notice of them in my own life.

The quiet melancholy of the various scenes, the raw vulnerability of emotion, and the unabashed honesty of the various pieces make this a truly worthwhile read. Whether you love or hate poetry the blurred line in which the author writes will appeal to you. Its accessible and full of meaning and doesn't make you dig for it.
6/16/2016 Little Rabbit by Barb Ettridge (Vampire Murders #1)
I was expecting another Twilight knockoff with a little bit of Underworld thrown in. Boy was I mistaken! And in the best possible way.
Little Rabbit is actually a smart, elegant, edgy novel about lies, betrayal, deception, addiction, and the fight for power. It is expertly written, moody and atmospheric. The interwoven facets of the occult are both enthralling and a bit startling at times, but all of it serves to add to the complexity of the protagonist.
For readers who miss the intelligence and maturity of a well-written vampire novel that uses those facets to tell a very human story, give Little Rabbit a read!
6/14/2016 Trusting the Currents by Lynnda Pollio
This novel was straight soul food! I am so excited to tell you about it. It's like nothing I've ever read before in fictional form.
Trusting the Currents is a brilliantly conceived novel in which the author channeled the spirit of her character onto the page. And what a beautiful story she had to tell! Addie Mae is struggling to find herself in a way that I think all women could relate to: how to separate what the heart wants from what the soul is destined for, how to let go of the ones we love so tenderly–not only to live our lives to the fullest but allow them to as well–, how to make peace with one's spirit and find consolation with nature and God without dependence on others.
I loved everything about this novel. Jenny is my favorite character. She is like a goddess spirit full of wisdom. Many of the passages in this book I marked with my e-reader highlighter just so I could go back and revisit them because they spoke such truth.
If you're looking for a story that will leave you changed afterwards–in the best way–discover this novel!
5/2016 California by Edan Lepucki
California (artfully ambiguous title representative of both the locale and the protagonist's nickname) is a gripping account of human nature and the lengths that one is capable of going to in the name of survival.
Cal and Frida find themselves living off the land in the aftermath of a highly plausible dystopia, in which global warning and the smugness of capitalism wreak havoc upon the U.S.. Life, as we know if, is obliterated. No internet, no stores full of food and conveniences. Natural disaster and illness invoke natural selection on a grand scale, and those who are left are forced to devise new (or old) ways of living. When life in seclusion becomes unsustainable (and frightening), Cal and Frida seek out the rumored existence of a "Community" not far from their habitat. What follows is an eerie thrill ride as these two unravel the secrets of the Community, its past, and Cal & Frida's haunting personal connections to it.
Lepucki's unraveling of the many complex layers to this story is brilliant. She gives just enough info at just the right times to give your mind just enough info to run stark raving wild with possibilities, to make you wish your eyes would fly across the page faster. I loved the cultish mood of the Community and it's…ahem…leader. The history of the Pirates has a real Mad Max feel to it and it fit perfectly into this dystopian narrative. The mystery surrounding the missing children and how all of the secrets surrounding the community are linked to Cal and Frida's past…nail-biting! Amazing! All of it kept me turning those pages as breakneck speed.
I also enjoyed the psychology behind survival–what people are willing to do for it, what they're willing to sacrifice and compromise, and whether it's worth it–that the author explores. It provides a sense of depth to the piece that interweaves all the pieces.
My only two complaints are the sometimes excessive internal dialogues of Cal and Frida that slow the action and the lack of finality in the ending. There are some huge red flag issues that are left unresolved and that will make any sensible reader look at Cal and Frida's actions (but especially Cal's), scratch their heads and say. "WTF? But what about…! How could he just ignore that? Doesn't he know that eventually…? Does he really think he's safe from…?"
And that's as much spoiler as I can safely give without ruining it. This is an awesome read though, especially for summer. I hope some producer in Hollywood snatches this one up. It'll make for a terrific film some day!
1/16 Road Trip by Lynette D'Amico
Road Trip is a brief but surprisingly moving whirlwind of images, moments, and myths. The narrative undulates between the lifelong friendship of two women (whose friendship is bonded by nostalgia and familiarity more so than commonalities or shared interests), "historical" accounts of the eccentric Stark family, and a myth as told to us by one strange hitchhiker. You'll spend the entire novella trying to piece together the relationship between these three seemingly unrelated story lines; ultimately, the final pages will offer somewhat of an answer, albeit an ambiguous, figurative one.
At its heart, this blur of stories beautifully captures raw, human emotions and causes the reader to feel very affectionate towards the characters. It also possesses a sort of voyeuristic element with the photographs and accounts of the Stark family, as if the reader were the one to uncover the history of this country family with harsh ways and strange secrets. The same could be said for the revelations we are given into the relationship between the narrator and Pinkie or the proverb of the hitchhiker women, which really smack you in the face with their ambiguous conclusions, ones that could easily be pondered and discussed at length. To hear these accounts firsthand is both intimate and mysterious, as we are left to fit together the pieces and form our own conclusions. D'Amico capture it all in wonderful detail.
I thoroughly enjoyed this read and recommend it to readers of literary fiction who enjoy the experience of reading and don't necessarily require a formulaic plot.
10/15 The Ribs and Thigh Bones of Desire by Sandra Hutchison
Love is a slow burn for Molly & David in this enthralling, realistic portrait of choices in a time of change. It explores complex issues such as grief, sexual abuse, and the turmoil of wanting someone you're not supposed to have. Also, it presents the reader with a profound look at the parent/child relationship in (albeit) extreme situations, ones which the average reader can readily sympathize (if not identify) with.
There's a lot to love about this novel but, without inundating you with spoilers, let me tell you that its authenticity and raw honesty make it an amazing read. I'm usually skeptical reading stories that are meant to be set in this decade or that decade. Let's be honest, if I want to feel as though I'm in the beloved 80's, I'm going for a John Hughes film, not The Goldbergs on ABC (love you though, Goldbergs!)I was expecting the 70's backdrop of the novel to feel inauthentic, but the author captures the essence of the decade well, and seamlessly blends it with the controversial topics that the book explores and in which the time period plays a vital role. At some moments I was infuriated and ready to go brush off my old feminist texts and organize new "after dark" campaigns (sadly, I walk around my neighborhood with pepper spray in hand, and my town is not seething with nearly as many seedy elements as Molly's!). Other moments really captured the beauty of the self-expression and experimentation of the era, although these moments were usually laced with controversy themselves, and I loved that the author emphasized the reality of consequences attached to every choice, especially selfish ones. I appreciated that message.
The raw honesty of the characters, of their relationships, and of the choices that they make is a defining element as well. I grew to either passionately love or vehemently hate the characters, and that's the mark of a great novel: making the reader feel. Hutchison doesn't pull any punches either. She wins your heart with Molly then puts her through absolute hell (that's all I'll say). But I was right there with her. I appreciated how Hutchison brought understanding to the characters that merited it, and left the others in the vague shadows and moldy rocks they climbed out from under.
I can't wrap up this review without commenting on David & Molly either. I myself have always had a weak spot for autumn/spring relationships (I blame Stallone; long story). But, the infatuation with older men…I get that. It's a motif I explore often in my own writing. Hutchison takes an original approach in the novel, and there is a surprisingly refreshing amount of time spent developing that relationship outside of "between the sheets". Again, in a word, refreshing.
My only criticism is that for a story that approaches relationships with such a slow build, the ending ultimately felt rushed. But hey, that could have been my own disappointment that the novel was over, and I didn't want to leave the company of the characters just yet.
I freaking loved this novel (if you can't tell). If unique, literary, unconventional relationship stories about family, life, and love are your thing, read this novel!
9/15 A Shelter of Others by Charles Dodd White
A Shelter of Others is one part character study, two parts lyricism, one part Gothicism, one part "what the hell just happened". It's marketed as a story about Mason and Lavada (who are separated as a result of Mason's prison sentence), about their lives apart and their lives converging together. However, the narrative that White gives us is so much more than that. It examines the lives of several detached, sequestered, lost people, searching for human connection, and it does so in such a way that we only get a window's glance into their lives, just long enough to form assumptions that we may-or may not-receive any answers to.
I fell into the gentle lull of this story fully expecting it to revolve around Mason and Lavada. However, just as another layer of complexity was added to their relationship, the narrative took a sharp turn on two wheels, veered off onto an unmarked dirt path, and drove right off the edge! That's the best way that I know how to describe it. And I-the reader- dug my nails into the dashboard, completely caught off guard, disbelieving at what unfolded. Perhaps, if I'd been expecting it, I would have enjoyed it more. However, the plot took on such a surreal quality that I couldn't fully accept it. Perhaps that's the brilliance of White's prose, that I didn't expect it or see it coming. I felt disappointed though by the lack of resolution, to all of the unanswered questions. Nevertheless, I'd argue with myself, "is not that indicative of life?" I'd have to answer that yes; too often it is. So if White was striving for in-your-face realism and true-to-life disappointment then he achieved it.
I'm a fan of lyrical, poetic prose. As such, I am a newly excited fan of Charles Dodd White. The most enjoyable part of reading this novel was delving into his lush description of the Appalachians in the early chapters and, later, in the unfolding of the intricate relationships between the characters. I may have not been a fan of the "gotcha" ending, but it will certainly stick with me.
7/15 The Country of Ice Cream Star by Sandra Newman
Man, I feel like I haven't kept up with this Review page as I should. Truth be told, I've been reading old classics (and for those reviews, check out my Goodreads page). I vowed to make this page a place for new, exciting work only. So, without further adieu, here is my latest awesome, epic read!
The Country of Ice Cream Star is nothing short of epic. It follows one exceptional young woman's journey to rescue her brother and bring hope (and peace) to her people.
The novel is shrouded in mystery of the best kind. Although we never really know what has caused this fatal virus that prohibits anyone from living past the age of eighteen (or so), nor do we understand why civilization in the U.S. has gone tribal yet seemed to remain intact in the rest of the world, we're given just enough information to make this story highly suspenseful and engaging.
We're also given this epic, heroic story in which the protagonist could be any vivacious teen. Yet Ice possesses maturity, courage, and determination beyond her years. She is a character that you want to stand and cheer for; one that faces insurmountable odds and keeps on fighting. Her journey is one big roller-coaster ride. Just when you think she's safe and it's time to breathe a sigh of relief, another seemingly impossible barrier blocks her way; and she fights through that one, too.
What truly makes this novel exceptional though is the deep complexity with which it explores human nature and the perseverance of the human spirit. While many other novels attempt to show the worst in mankind in their depiction of civilization vs. savagery or the hungry thirst for power (Lord of the Flies, Brave New World, etc.) , Ice Cream Star shows us the reality of the worst while also revealing the inherent good that defines our humanity; the devotion of family, the loyalty that rises from community, and the fierce bonds of love that drive us past all boundaries.
That being said, the writing is superb. The language is so cool and unique (don't let it get you down; pretty soon you'll be speaking Roo and Sengle with the characters). If you want to find yourself completely engrossed in an entertaining novel that also possesses literary depth, this is the book for you. The Country of Ice Cream Star is one of the those stories that will sit with you long after you've turned the final pages…in the best way!
5/3/15 From Here by Jen Michalski
From Here is an arresting collection of stories that will stay with me for quite some time. While the storylines are as different as random strangers that you will meet on the street, common threads of loneliness, abandonment, searching, loss and dissatisfaction run through them. There is a strong sense of unrequited longing, of issues not actualized; far from resolution. Each story tends to end abruptly; not at "the end" but rather at the beginning of a moment in which a distinct change (or growth, or evolution) is most needed for the characters. We the readers find ourselves swept up in their most poignant moments of being, profoundly real and intimately felt.
I don't know if this adequately explains the sophistication and magic of the collection. Plainly put, you will feel like voyeur unobtrusively witnessing the types of experiences that are kept behind closed doors or locked away in people's hearts.
As another reviewer previously stated, these stories do feel like novels in waiting, perhaps due to the fact that the author does choose to leave us not with the resolution, but rather at inciting moments to which a larger resolution is needed. I like that though. It allows us to (I'm paraphrasing from a favorite movie) to "imagine to best and worst" for the characters.
This is a lovely, literary read, and the author has a beautiful voice on the page.
Favorites: The title piece and "The Mural", "Queen of Swords" and "Killing Rabbits".
4/8/15 The Only Pretty Thing by Ruth Ann Haefner
I was pleasantly surprised by this charming book. I stumbled upon The Only Pretty Thing by chance on an indie Listopia list, and the fact that it had no reviews whatsoever intrigued me. The sample pages on Amazon also seemed pretty good so I thought I'd give it a whirl.
I'm so glad I did. This is an engrossing tale of three generations of strong women surviving heartache, surviving betrayal from those closest to them and-more importantly-finding forgiveness and redemption.
Of all of the things that I loved about this story, the most prominent is the remarkable characters. Like Doris, who sleeps with her sister's husband and has a child by him, a child that his wife, Mary, must eventually raise as her own. Doris' and Mary's sister Kate, who lives by her own terms and is the justice-seeker of the family. And Elinor, the elusive daughter of Doris and George, Mary's husband, who must forge a life overshadowed by the sins of her parents. These women, along with several others, hold the reader captive along their incredible journey.
Another thing that I loved about this book was its pastoral description. Taking place in the remote countryside of West Virginia, this book tells the story of times seemingly long past to the outside world, of lifestyles that still survive tucked away where modern hustle and bustle cannot touch them. Haefner describes it all beautifully with whimsical imagery poised in just the right amount in just the right places.
I also grew to appreciate the unique narrative approach of the author. The stories of these women follow a sort of stream-of-consciousness as the death of Elinor in "present day" cause each of the women to reflect on the significant events of their lives that have brought them to this point. Graciously, the author provides us with hints to these breaks with with time headings (1982, 1952, etc). With them, the flow of the story will eventually settle in; without them, it would have been chaos.
The one piece of constructive criticism that I have for this book is the oftentimes repetitiveness of sentence structure. Arguably, perhaps the author intended to do this (ex. almost all paragraphs involving character action will follow a repetitious sentence structure of "She did this". "She did that." "She did this". etc.) Granted, it's not the structure of the entire book-that would have driven me batty-but it was enough to be noticeable. Eventually, I fell into the rhythm of it; however, I think it was an irritable distractor in an otherwise marvelous story.
I loved, loved, loved this story. I grew to love these characters and the author's simple, charming mode of storytelling so much that I didn't want it to end.
I hope that more people will give The Only Pretty Thing a chance and some favorable reviews. I hope that the author will write and publish more!
3/27/15 the house they couldn't build by B. Mamatha
Fascinating. Beautiful. Clever.
Where can I begin to describe this wonderful, unique book? Perhaps I should begin by saying that, were every short story in this collection expanded into a novel, I would want to read every one of them.
Mamatha refers to her own fiction as strange, and it is that-but in an almost classical way. I was reminded of writers like Kafka and Charlotte Perkins Gilman as I was reading these stories. True, bizarre things do happen, in every story; however they occur in such a way as to suggest poetic analogies, or mysteries embedded so deep that it would take several readings in order to come up with a good, working thesis on its intended meaning. In my mind that's a good thing, a great thing even; something that only great literature can do.
While I enjoyed each story, "The Gunnard Ultimatum" and "The Mirror Trick" were my favorites; Gunnard for its surreal, dream-like quality and clever ending, Mirror for its intensely fun scare. Following on that note, "The Pork Chop" filled me with total dread, and I'm still not entirely sure what in the world happened-I'd love to have it explained to me. Maybe when I'm feeling brave I'll revisit it.
These stories each pick at the corners of darkness that is, at times, fraught with tension. However, the loveliness of the writing and the humorous turns balance out the bleaker notes quite nicely.
I'm thrilled to have discovered Mamatha's writing and can't wait to read Keeping Lastly and her future works.
2/16/15 Wildalone: Starting the year off right!
It's been a long time since I've read a modern Gothic (in a contemporary setting) as enthralling as Wildalone. Reminiscent of novels such as The Secret History and Lake of Dead Languages, Wildalone is a flawless blend of myth, fated love, and Gothic suspense.
Among the many things that I loved about this novel was the way in which Zourkova interweaves Greek and Bulgarian myth, finding the commonalities between the two and creating her own, unique brand of myth. It was wild and harsh and carried the story through its entirety. One of my favorite chapters in the book involved Thea's memory of visiting her estranged family in far-away town in Bulgaria; it had beautiful, subtle elements of suspense. I also loved the way in which the mysterious, vanished sister ultimately factors into the conflict. Elsa's story is relayed to the reader in a gentle unfolding that leaves you just enough time to wish that it weren't so, but to be horrifically fascinated when you realize that it is (I'm being vague here as to avoid too many spoilers).
The other truly defining element of this story (for me) was Rhys. He is a resplendent, emotional-roller coaster of a character. Part "Alpha Male", part tortured soul; his story (like Elsa's) was executed brilliantly, showing just enough of what we needed to know at just the right moments. I loved the fact that I was enraged with him one moment and saying "…….Ooooh" the next.
I also enjoyed the exploration into the triangular relationship between Rhys, Jake, and Thea. Upon reading the book's blurb, I falsely assumed that it would be a consensual relationship and was surprised when it wasn't. I struggled with the validity of Thea's feelings towards Jake; in fact, I could make a really good argument for why Thea's feelings for Jake are ri-donk-ulous. However, I enjoyed being so caught up in my feelings over a character, or group of characters. And the side-lining conflict of Rhys/Thea/ and (insert spoiler here): aching, devastating, and so well rendered.
If there was anything dissatisfying about Wildalone, it was my desire for more when it ended. I appreciated the ambiguity of the end, though I would L-O-V-E a sequel or even a prequel; I think a prequel which focused on-ahem-"other" characters would be super!
Regardless, this was a spectacular first effort by Zourkova and I impatiently await her next novel.
1/19/15 Spreading the Indie Love
In wrap-up of 2014, here are the indie books that I read (and recommend):
Most of these stories fall into the realm of Gothic Romance/Paranormal Romance. A few are first efforts who-I assume-are going at this completely on their own ( be patient with their editing) but the stories are all fabulous and worth giving a try :0)  Towhidy's, Sousa's, Varley's, and Chambers's are exceptionally well done on all points. Enjoy!
1/1/2015
This is an unusual story of first love, set in a Christian summer camp for single parents and their children. The young lovers must struggle to put their personal demons aside in order to be good to each other.
Many things caught my attention with this story, the first being how neurotic the heroine's mother is, insisting that she accompany her to "group therapy" sessions in which all the women cry over how miserably lonely their lives are as single mothers and over the men who done them wrong. I was also taken aback by how clingy the mother is, and the psychological ramifications that this has on the heroine, who is both simultaneously drawn to her lover and terrified of him at the same time.
I was also taken in by the sort of old-fashioned courting that goes on between the two lovers, and their differentiation between physical and emotional intimacy that runs completely counterculture to today's youth.
What really got me though was the ending. I didn't see it coming and it was shocking and moving and a whip-smart choice by the author (pun intended :0)
Readers of romances such as Fault In Our Stars or Nicholas Sparks will enjoy this novel, as will those that favor traditional first love stories with unique twists.
11/2/14
Good literature makes you feel, shows you the ordinary through new eyes, and offers a delicious escape into the beauty of language, enigmatic characters, and stories worth telling. Jessica's Lott's The Rest of Us deserves to be noted as a piece of good literature.
It is a story very much grounded in realistic possibility-i.e. this could be anyone's story. It explores traditional themes of self-discovery and impossible love with maturity and grace. The b-storylines also explore ideas about parenthood, the urgency of self-doubt, the grave necessity of friendship, and the crucial importance of following one's dreams. Encompassing all of these ideas is the predominant, softly-spoken message that love is what keeps us sane, what gets us out of bed in the morning, what saves us from ourselves.
What I loved most about this novel is the eloquence of Lott's prose. The novel is filled with these brilliant, poetic ah-hah moments about nature and being in the moment. I hate to mark up my books but I found myself tempted to underline passages that I wanted to ponder at longer intervals, like a painting. I will need to read it again soon and do so. I also appreciated that although there were characters in this story that I couldn't stand, Lott revealed found ways to reveal those characters' best selves, and it was wonderful to see those characters evolve; it reminded me that no one is a whole embodiment of a "worse feature". It was a lovely reminder.
Only one element of this story stuck out as a sour note, and that was the ending. Against the backdrop of the rest of the novel, the ending felt cruelly abrupt. "What? That's it?!" I asked myself. Not enough to sully the work as a whole; however, I wish that the story had been given a stronger, more deserving sense of closure.
I thoroughly enjoyed this book, was said to see the characters part, and look forward to Lott's next effort.
8/30/14
Delightful and Engrossing
What a pleasing find this novella was! If you are a fan of fun Victorian Gothic tales, then The Night of Elisa is a must read.
All of the formula for a great yarn is here. The heroine is reminiscent of Anne Radcliffe's damsels in distress, who traverse great distances to rid themselves of the evil that haunts their steps and who are searching for the one great love that will make them whole. There are hints of Le Fanu in the lush description of exotic settings and the veiled, sinister villains whose presence is strongly felt throughout. The dash of paranormal romance adds just enough supernatural mystery to spice up the tale. The style and tone of the novella also reminded me of the milder, more eloquent way that stories were told before our harsh and desensitized modern era began to demand more shock value.
I also loved that the characters were all so endearing. They are human yet caricatures of different facets of humanity, much in the way that traditional Gothic characters are. Some are torn between virtue and human weakness, but not to the extent that shocks or appalls the reader. The twins are my special favorite, and I would have liked to have read a story devoted entirely to them and the brief history that they share with Elisa. In fact, I truly wanted to know more about all the characters, especially Leonhard and Quentin, Elisa's dastardly husband.
Oh, and the illustrations…how lovely. I know I'm saying that this book reminded me of a lot of things but the illustrations reminded me of the titles during the film "The Others", due to their simplistic yet eloquent nature. I like that the author left more the imagination. The drawings suited the time period of the story perfectly and the cover illustration is just gorgeous.
This is a great read that beckons you to cuddle up with it before a fire on a stormy afternoon with your favorite hot cup of something.
7/16/14
Blood Roses by Francesca Lia Block
In the mood for a different kind of faery tale? Blood Roses is raw, sumptuous prose that captures the dark essence of those elusive years of adolescence, when our minds are not wholly our own, because we cannot know ourselves and therefore cannot fix ourselves; we lack direction and –dare I say-sanity. Then we re-emerge on the banks of adulthood cold and shivering and confused as to how we got there and wondering whether the nightmarish visions of our teen self truly happened to us. We forget them the way a mother forgets the pain of childbirth. Our amnesia is birthed from a desire to forget our own madness, our bell jar.
Francesca brings us back to that dark kingdom, and does so in a way that is familiar, terrifying, and beautiful. She perfects the art of saying much with little. Her imagery is stunning, and she conjures the painful hymn of adolescence in shrouds of myth, nature, and the harrowing backdrop of the angel city.
I could not put this book down. Wanted to read it again as soon as it ended. All of the wonderful clichés that can be said about page-turners can be said here. But Block's work is nourishment. It is poetry. Recommended for teens and adults alike.
7/8/14
V.J. Chambers was my intro to indie writing and The Killing Moon is my favorite work of hers. While I am usually hesitant to read Werewolf or Vampire novels-post Twilight era-The Killing Moon is an exception to the teenybopper, monster love triangle angle that most YA and NA authors succumb to.
This novel explores obsessive love, employing an enigmatic, serial killer werewolf as the object of an innocent woman's affection. What's worse than falling in love with your captor who physically and psychologically tortures you? Falling in lust with him…that's worse.
Aside from the dark romance angel of the piece, the novel also explores a new and unique theory on the creation and bonding of werewolves, and does so in a detective story way that is fast-paced, suspenseful, and wholly engaging.
The best part of this novel is Cole. He is everything you want in a proverbial "bad boy". His confidence, sensuality, and carnality all play flawlessly to the Gothic romance/obsessive love theme.
If you want something different, slightly dirty (YA' ers beware), and fun, give The Killing Moon a whirl.
(Note: This is Book One in a Trilogy, so there's more if you can't get enough of Cole.)
6/26/14 This has become one of my "escape books" that I read about once a year. I love it! It's a delicious romp into rock star romance with all the entrappings of traditional Gothic romance.
I don't know if it's possible that I love this adaptation more than the original. I think I'm just a sucker for rock stars. Rock stars and Mr. Rochesters. And this smart, hip adaptation of Jane Eyre gives me both.
Lindner manipulates the original Bronte story just enough to keep it modern while still maintaining the heart of the novel. I particularly liked the way that she spun the original Bertha Mason into Bibi, I loved the new Rivers family that befriends Jane in her time of need for their portrait of modern charity, and I adored Nico as the new Rochester. In fact, all the characters in the novel struck a perfect chord.
Jane is written for young adults but still mature enough for adult readers. It's literary and intelligent, albeit more subdued for a younger audience. But that appealed to me because although the novel does not shy away from the candidness of the rock star lifestyle (sex, drugs, etc.) nowhere does this novel swerve into tasteless territory as some modern adaptations are wont to do (i.e. you won't find Jane or her Mr. Rochester wielding any whips or chains here). It's aching, Gothic, romantic escape.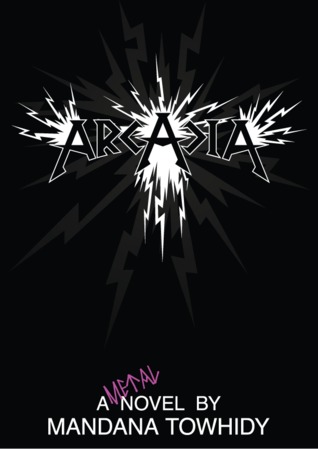 6/18/2014 I thought I would kick off my reviews page with a great debut novel that I was excited to discover. Arcadia, from fellow indie author Mandana Towhidy:

Ever wonder about those girls in 80's metal music videos? They stood behind chain linked fences in throngs of fierce denim cut-offs with frost-tipped hair and neon eyeshadow. Every now and then, David Lee Roth or Brett Michaels or some other rock god would ram his tongue down one of their throats and toss them on the back of a motorcycle and ride off into the gin-soaked sunset. Or, at least, that was their dream. I always wondered about those girls. What were their lives like after the tour buses pulled away? Mandana Towhidy's Arcadia is a candid, intelligent, unapologetic look into the lives of the girls that populated the 80's metal scene.
There is not much about this book that I didn't love. The foremost thing that should be recognized here is the quality of Towhidy's writing. It's the real deal. It's well-crafted, comical in all of the right places, serious when it needs to be. The very aloofness of Ronnie's narrative is calculated and executed with precision. In short, Towhidy is one hell of a writer and it shows, and it makes Arcadia a pleasure to read.
I also loved the matter-of-fact tone of the novel. Ronnie simply tells her story as she sees it, and it's a story about trying to make sense of deep unhappiness by losing oneself in the vices that entice us: drugs, sex, alcohol, rock and roll. Ronnie and her friends live by a mantra of partying: thinking of parties, talking about parties, preparing for parties, recovering from parties, then lather-rinse-repeat. She offers us little snapshots into the other facets of her life-parents, school, romance- and while she doesn't volley excuses of explanations for the lifestyle she chooses (or that chooses her), she nevertheless hints at what makes a party girl a party girl, and it's not that big of a mystery, so we get it.
Man, the only thing that I would change about Arcadia was that I wish there were more of it. I'd love to know how Ronnie and her friends made out. Some were heartbreakingly fragile beneath all of those f-bombs and aqua net.
Arcadia is a brilliant novel and I anxiously await Towhidy's next effort.
P.S. The soundtrack: What a cool idea! Pretty soon everyone will be doing it.